A REAL "REAL" MAYO
Finally, a mayonnaise that tastes like real homemade mayo.

A Fresh Mayonnaise is a mayonnaise that looks and tastes like a homemade recipe.
Made from ingredients you can find in your pantry and fridge, real ingredients.

Find them in the refrigerated section of supermarkets and health food stores.
Not available on our online store.
The authentic taste of homemade mayonnaise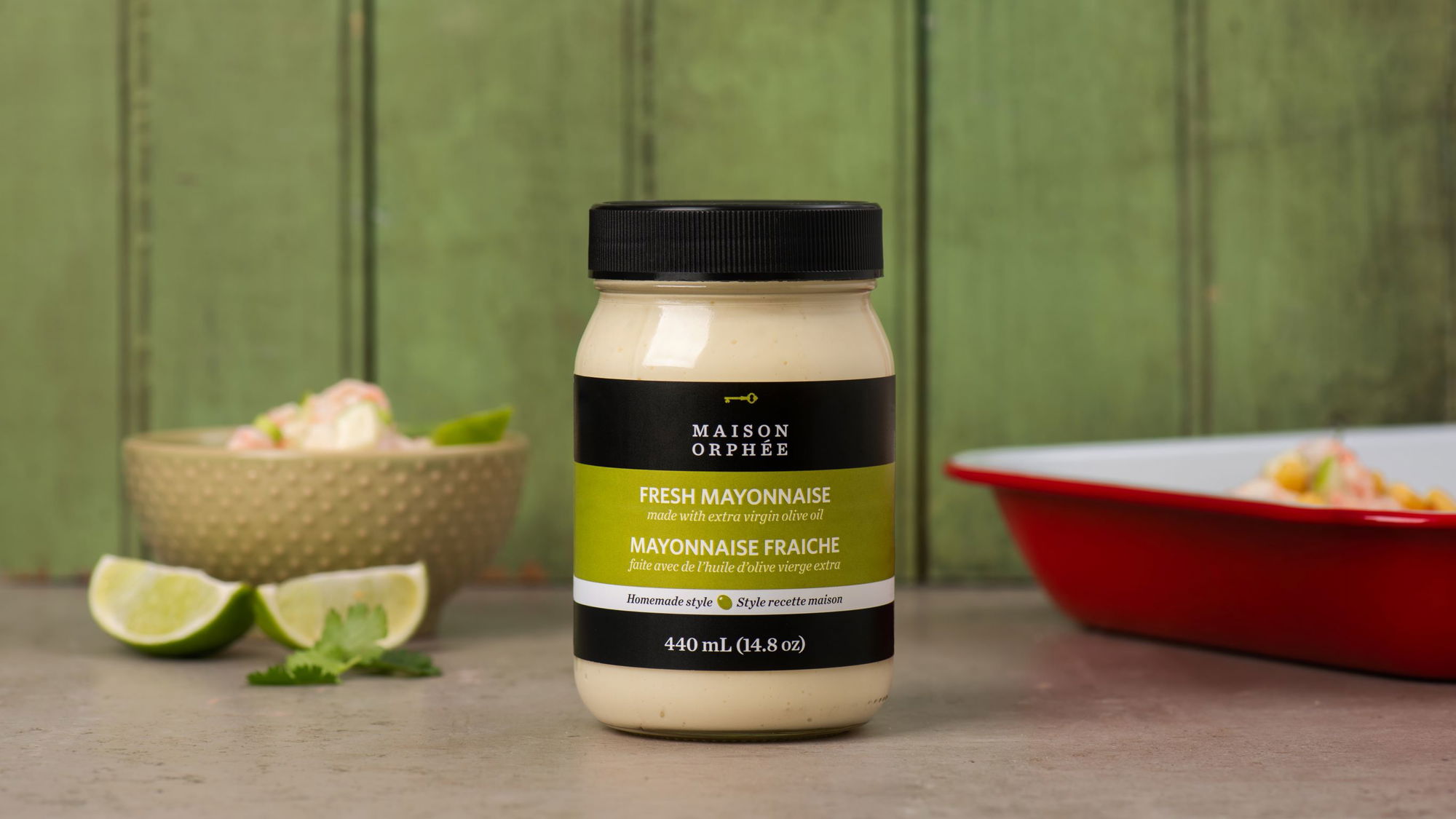 Made in Quebec
Natural and understandable ingredients
Without artificial preservatives and especially without EDTA
Sodium level lower than most mayonnaise found on the market
No Sugar Added
What is fresh mayonnaise?
Fresh mayonnaise is a "home styled" kind of product made entirely with fresh and natural ingredients. We can normally find it in the refrigerated fruits and vegetables aisles in grocery stores. Its recipe tends to contain no food dye, no preservatives, and especially no EDTA.


In most popular conventional mayonnaises that we can find on supermarket shelves, preservatives like EDTA are often used. This chemical additive allows a certain stability to the product to ensure it can be sold at room temperature.


Our engagement here at La Maison Orphée is to offer products that come the closest to the recipes you make at home, so they are without EDTA. Furthermore, our newly concocted mayonnaises are made with sunflower oil as the first ingredient, without any refined oils or added sugar or spice.
What is EDTA?
EDTA or calcium disodium EDTA or ethylene diamine tetra-acetic acid is a preservative very often used in the cosmetic and food fields. In the food industry, it is an additive that prevents the phenomenon of discoloration related to oxidation. It allows the products that contain it to keep over time and to slow down the rancidity.
Since we want to offer products that are as close as possible to the recipes you cook at home, we do not use preservatives that are not 100% natural in our recipes. We use cider vinegar and lemon juice to ensure the shelf life of our products. These are natural preservatives that have been known for thousands of years and have no negative effects on health.
What is the shelf life of fresh mayonnaise?
Our fresh mayonnaises have a 12 months guaranteed shelf life once they leave our factory. Once open they can be consumed up to the expiration date written on the label.
Can I leave my fresh mayonnaise on the counter or in the cupboard if it's not open?
Fresh mayonnaises must be kept in the refrigerator even if still sealed. This ensures they keep their flavour and freshness as they do not contain any preservatives.
How long can I keep this product in the refrigerator?
Until the expiry date written on the product label.
How do you ensure the product's 1 year shelf life without preservatives?
Our fresh mayonnaises have a 1 year shelf life thanks to entirely natural ingredients! Lemon juice and organic apple cider vinegar allow optimal preservation.
How does your mayonnaise compare in terms of sodium with others on the market?
If we compare our fresh mayonnaise with the most sold one on the Canadian market, it has 36% less sodium per portion, that is 60mg compared to 95mg.
What is the difference between the fresh mayonnaise and the fresh mayonnaise made from extra virgin olive oil?
The two recipes are very different. You will mainly taste the difference as the olive oil mayonnaise has a slightly more "lemony" taste. We recommend it for your lobster rolls or with a fish and chips.