A new format for our delicate extra virgin olive oil!
Olive oil is one of your kitchen essentials, and you often think to yourself: come on, the bottom of the bottle again? You'll be happy to adopt our new format of Delicate Extra Virgin Olive Oil, the 1.5 L Bag-in-Box (BIB)!
In addition to being environmentally friendly, convenient and economical, this packaging solution offers total protection from heat, oxygen and light to keep the oil fresh.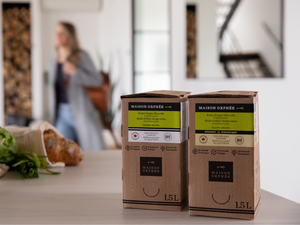 What is the Maison Orphée Bag-in-Box?
It is a large format, single-use packaging solution that is ideal for maintaining long-term product freshness while preserving it from heat, light and oxygen. The BIB includes:
1) A cardboard box made from 77% recycled fiber and 23% FSC (Forest Stewardship Council) virgin fiber;
2) One 1.5 L recyclable plastic bag;
3) A one-way leak-proof spout that prevents oxygen and moisture from coming into contact with the oil.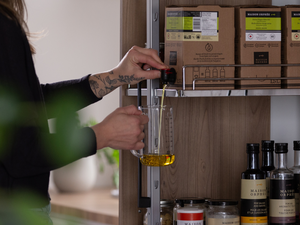 How does this packaging keep the olive oil fresh?
The cardboard box and the bag offer a double protection against oxidation, olive oil's worst enemy.
As you pour the oil, the bag collapses, keeping oxygen out of the bag. The opacity of the cardboard protects the olive oil from light. And, the rectangular shape and small size of the BIB makes it easy to store in your pantry, away from the heat of your kitchen and the sun.
The result? An oil that will keep its organoleptic properties throughout its lifetime.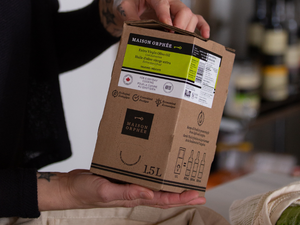 An economical choice
This new format allows you to save money on a daily basis. By opting for the BIB, you will save nearly 10% on the purchase price compared to its equivalent in bottles.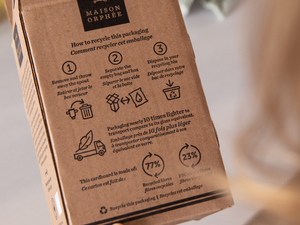 A planet-friendly option
Entirely made in Canada and nearly 10 times lighter than its glass counterpart, this compact packaging solution considerably reduces CO2 emissions during transportation and the number of kilometers travelled to reach your kitchen. And with the exception of the spout, this new format is easily recyclable and made from recycled materials.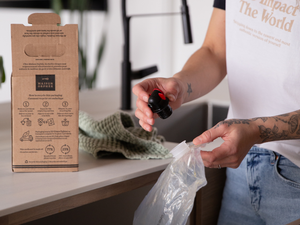 How to recycle this packaging
The BIB is easily recycled in most Canadian cities. Here are the steps to make it happen:
1) Remove and discard the spout
2) Separate the empty bag and the box
3) Place the bag and box in your recycling bin
Simple, right?
Order your 1.5L BIB today!