Organic Old-Fashioned Mustard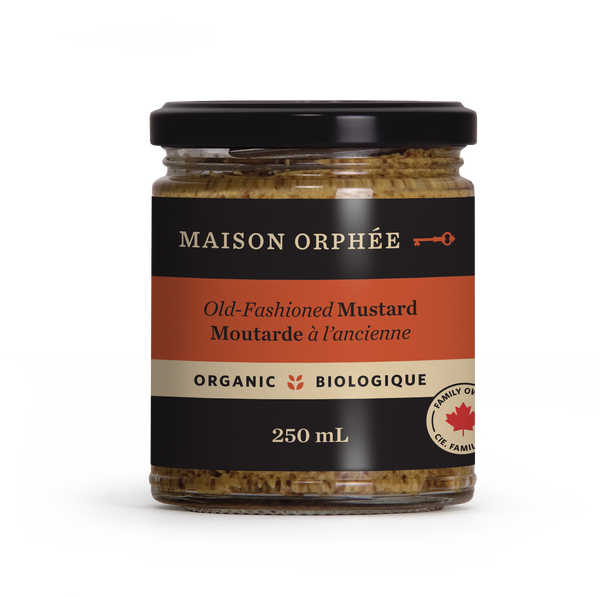 "Perfect in salads for its vinegary and salty contribution, without forgetting the crunchy side that the mustard seeds offer!"

- Marion, Quality Assurance Director

Ideal for crunchy mustard lovers
Our Organic Old-Fashioned Mustard distinguishes itself by its crunchy texture, obtained by the partial grinding of several types of seeds, and its slightly vinegary taste. An excellent option for people who like lightly spicy condiments and who enjoy adding a touch of aesthetics to their dishes.
Did you know? A 250 ml jar of our mustard contains more than 100 g of mustard seeds.
Why Choose Maison Orphée ?
The selection of a reduced number of ingredients for the production of our mustards reflects our desire to offer clean label condiments with a natural and delicious taste. We make no compromises to produce the best products possible.
Recipes
See more recipe ideas for this product here.
Characteristics
Use: Prepare marinades.
Peculiarities: Raw – No sugar added – No preservatives – Gluten-free
Origin: Made in Canada from Canadian and imported ingredients
Ingredients: water, organic mustard seeds, organic apple cider vinegar, sea salt.
Certifications: GMO-Free - Organic Canada - Foods prepared in Quebec
Low in Fodmap
Naturally gluten-free
Nutritional value