Unrefined Toasted Sesame Oil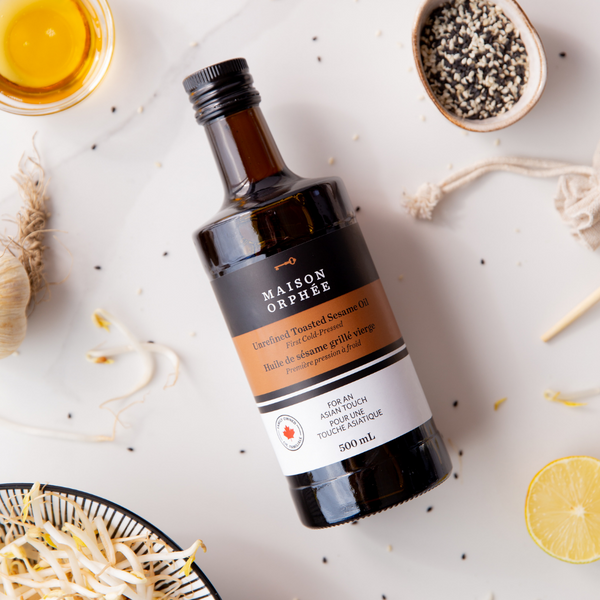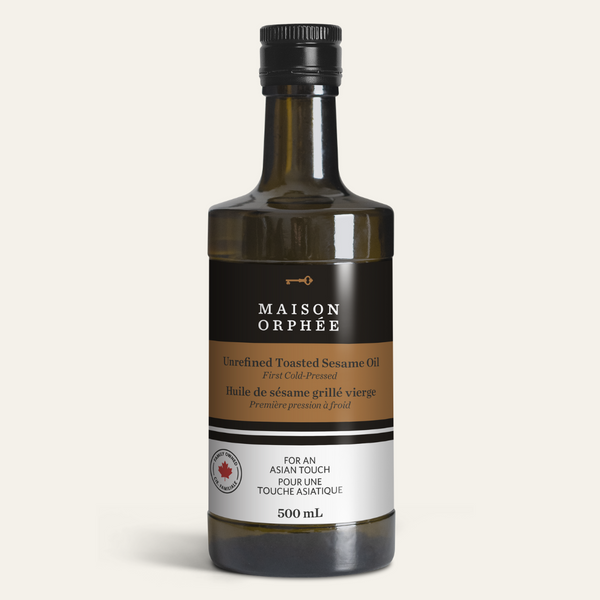 Ideal for stir-fries, salads and soups
*We are currently transitioning to a new packaging for our oils and vinegars. The look of the purchased product will vary depending on availability.
Toasted sesame is good when it's balanced and doesn't overpower the rest of the dish! Here is a recipe of our own where we mix cold pressed virgin sesame with toasted sesame. The result is a well-balanced oil that is perfect for flavoring Asian-inspired dishes. 
Try it with chopped cilantro to flavor a salmon tartar. It's a guaranteed success. 
Why Choose Maison Orphée ?
The taste, colour, typicity and health benefits of our oils are preserved because we take the time to cold-extract the best from the oilseeds before bottling the result in dark glass bottles that protect them from oxidation.
Recipes
Ideal for preparing marinades, spicing up mushroom or spinach salads, flavouring tataki, curries or Asian soups.
Discover recipe ideas for this product here.
Characteristics
Use: flavour salads and soups and season Asian and Indian dishes.
Smoke point (?): 356 °F / 180 °C
Extraction (?): First cold pressing - Raw
Origin: Made in Canada from imported ingredients
Ingredients: sesame seeds.
May contain: Nuts, Hazelnut
Certifications: GMO-free 
Naturally gluten-free
Nutritional value