Organic Virgin Flaxseed Oil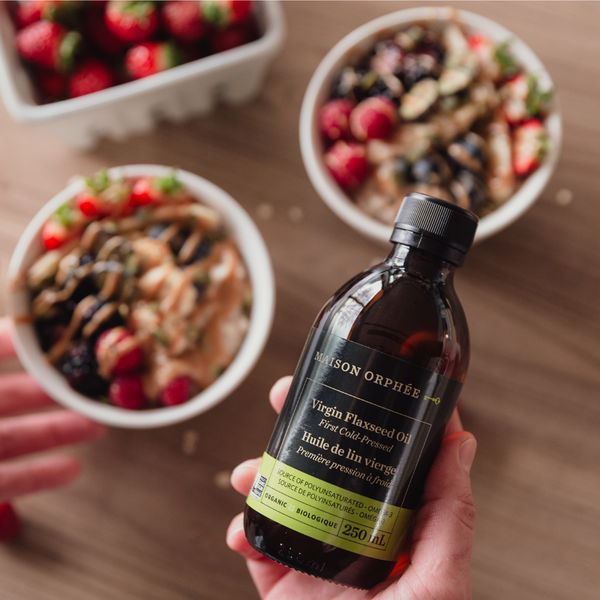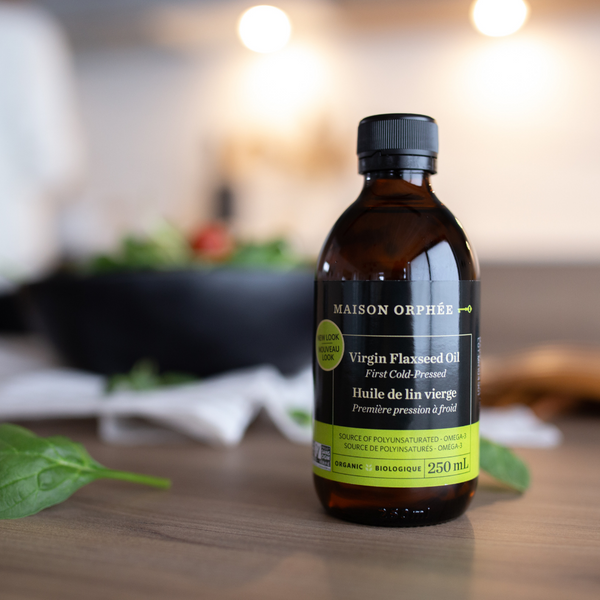 EXCELLENT SOURCE OF PLANT-BASED OMEGA-3
Flaxseed oil is one of the best sources of omega-3 polyunsaturated fat of vegetable origin. Our flaxseed oil is virgin and cold pressed in small batches on our presses in Quebec City. 
In order to preserve its high omega-3 content and to avoid oxidation, it must be stored in the refrigerator away from heat and light.  
Omega-3s are essential fatty acids that our body needs to function properly, as our bodies are not able to produce them by themselves. They must therefore be incorporated into the diet or through food supplements. They are known to be preventive allies against inflammatory, autoimmune and cardiovascular diseases.  
Flaxseed oil is a plant-based source of quality omega-3 and, therefore, a delicious alternative to fish oils. Being organically grown and cold extracted, it is perfect vor vegetarians and vegans. 
Where to buy it?
Available online or in the refrigerated section of health food shops. 
You will find it at: Avril, Marché TAU, Rachelle Béry, among others.
Why Choose Maison Orphée ?
The taste, colour, typicity and health benefits of our oils are preserved because we take the time to cold-extract the best from the oilseeds before bottling the result in dark glass bottles that protect them from oxidation.
Recipes
It is important to use flaxseed oil as is or as a seasoning to retain all its benefits. Avoid heating it. We suggest simply adding a dash of oil on your avocado toast, in your smoothies, on your salads or even in your breakfast bowls.  
Characteristics
Use: must not be heated. Use cold only, as a seasoning. Keep refrigerated. Use within 4 weeks after opening.
Extraction: first cold press
Naturally gluten-free

Processed in Canada

Smoke point: 212 °F / 100 °C

Ingredient : Organic flaxseed

Certifications : Aliments preparés au Québec - GMO-free - Organic Canada
Nutritional value